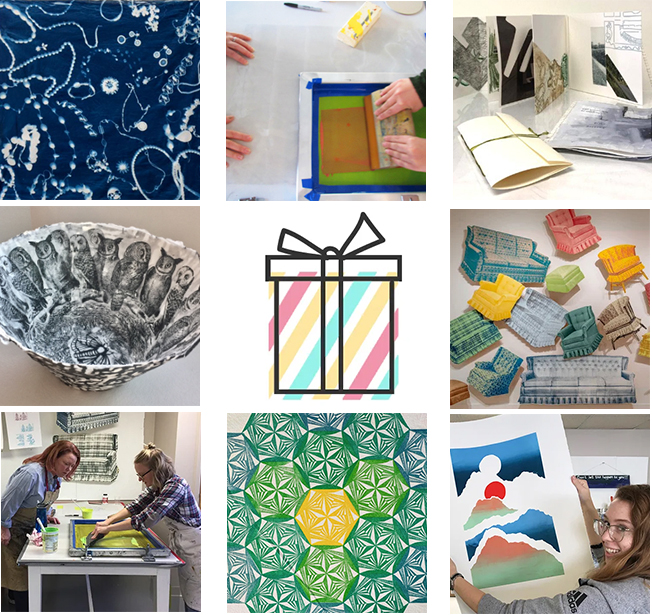 Give the gift of creativity! Click here to purchase gift certificates for our upcoming winter workshops. Here is a partial list of our offerings. Please note, an email will be sent out within 48 hrs that will be your confirmation of your purchase.
Paper Mache Virtual Workshop
Handprinted Japanese paper is used for papier mâché is used to create beautiful and useful bowls. All materials will be mailed to participants and are included in the tuition This workshop is open to all makers, no art experience is required. Workshop is taught using Zoom technology. Click here for more information and to register.
Working with Cyanotype on Fabric at Home A virtual (Zoom) class
Cyanotype is a photographic printing process that results in a distinctive cyan-blue print. It is a simple process that yields lovely results. Class 1 (March 13th) we will explain the cyanotype process and how to produce beautiful pieces it at home. The project is on fabric to produce the piece pictured above but we will discuss working on paper as well. Resources for materials, simple supplies that you already own, detailed technical advice, and do's and don'ts will be covered. Class 2 (March 20th) is for questions, advice and sharing your results after following the process learned during the first class. The two sessions on two Saturdays one week apart.Fabric for a 24" x 24" batiste cotton scarf (as seen above), a small amount of cyanotype powder (easy to mix with tap water) and detailed written instructions are included in the materials fee. Click here for more information and to register.
Introduction to book ARTS
Artist books provide an opportunity for creative expression on an intimate scale. They can be works of art in their own right and they can be utilitarian. This is an introduction to making simple folded book structures with minimal sewing. Bring some of your own images and materials that you have been saving for "someday I will think of what to do with this". You will come away with the ability to make simple books that you can use for collage work, photo books, journals, whatever strikes your fancy! Most materials will be supplied but if you have book making supplies (a bone folder, waxed thread for example) bring them along. All levels welcome. This will be a TBD late spring 2021 in studio offering
Intermediate Book Arts
In this workshop we will take the skills you learned in the Intro to Book Arts class and add new techniques to bring your bookmaking skills to the next level.  Non-adhesive multi section sewing, accordions, and simple portfolio constructions will be highlighted.  Most materials will be supplied but if you have bookmaking supplies (a bone folder, waxed thread, self healing mat) plus prints or drawings, bring them along. Previous enrollment in Intro to Book Arts or equivalent required. This will be a TBD late spring 2021 in studio offering
Silk Screen Workshop
Silkscreen is a great way to make beautiful, colorful, multi-layered prints fast. This workshop will introduce you to silkscreen materials and methods from image preparation, coating and exposing the screen, to printing on a variety of surfaces. You will have experience making registered, multicolored images with an emphasis on mixing transparent colors and layering them.  Purchase of screens and other equipment is not necessary, you will be using ours during class. Newsprint is included. If you wish to bring your own nice paper, Arches 88 or Rives BFK are appropriate. 
Intermediate Silk Screen
This workshop is for students who have taken Intro to Silkscreen at Shepherd & Maudsleigh who want to learn more advanced techniques to make multi-color silkscreens.  We will navigate between the digital realm using Adobe Photoshop to adjust and manipulate our imagery, learn registration techniques, and create editioned silkscreen prints.