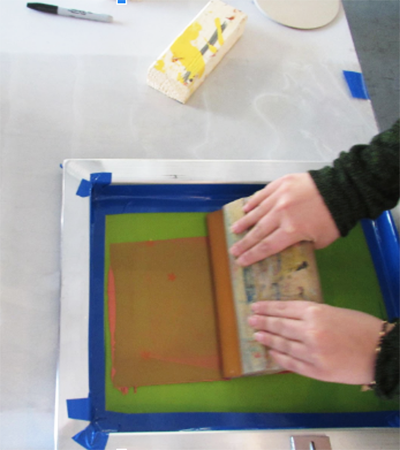 One Day Demonstration and Team Silkscreen Printing Workshop

Monday, November 11th

10 a.m. – 4 p.m.

Instructor: Danielle Pratt and Liz Shepherd 
Cost: $255
If you compare a digital print and a screen print of the same imagery next to each other, you will see a vast difference! Screen printing offers layering techniques that graphic artists know from Photoshop but the silkscreen results are infinitely more interesting in their imperfections, more tactile and more attractive. This workshop will focus on making layered, multi colored screen prints. Juxtaposing multiple screens, images can be created that are dramatic and unexpected. We will be paying particular attention to mixing transparent colors and layering them. Workshop attendees will be provided with guidelines for image creation.
This class is limited to 6 attendees. Free parking is provided.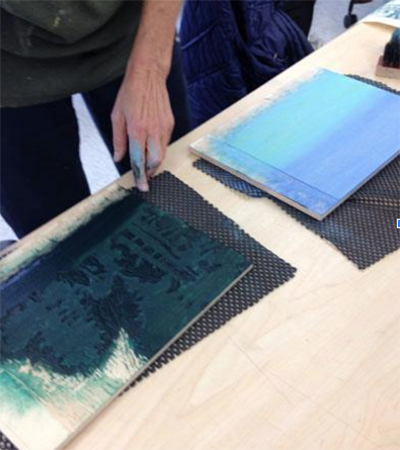 Japanese Woodblock Printing
Thursday, November 14 & Friday, November 15, 2019
10 a.m. to 4 p.m.
Instructor: Lisa Houck
Cost: $355 plus $35 materials fee
Japanese woodblock is a technique rich in tradition dating back to the 17th century. Ukiyo-e means "pictures of a floating world" because these prints depicted daily life. We will carve wood blocks and ink them with watercolors and nori paste to create painterly prints and to experiment with Japanese papers. This non-toxic print medium is colorful and subtle, allowing for transparent washes of color as well as detailed textures and wood grain.
Please bring sketchbooks, photos and other inspiration to the first class.
Appropriate for all levels.
This class is limited to 8 attendees. Free parking is provided.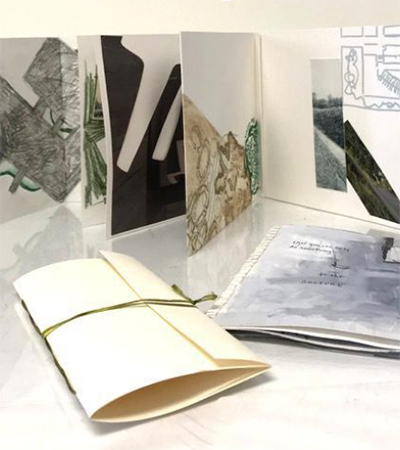 Introduction to book ARTS
Wednesday, December 4th
10am to 2pm
Instructor: Rebekah Lord Gardiner
$65 which includes $5 materials fee.
Registration Closed, Class is Full
Artist books provide an opportunity for creative expression on an intimate scale. They can be works of art in their own right and they can be utilitarian. This is an introduction to making simple folded book structures with minimal sewing. Bring some of your own images and materials that you have been saving for "someday I will think of what to do with this". You will come away with the ability to make simple books that you can use for collage work, photo books, journals, whatever strikes your fancy! Most materials will be supplied but if you have book making supplies (a bone folder, waxed thread for example) bring them along
No experience is necessary.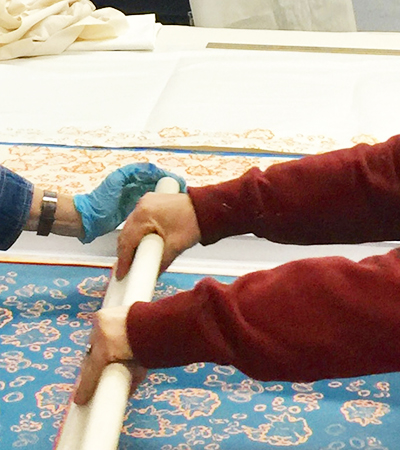 Textile Printing in ONE Day
Instructors: Rebekah Lord Gardiner and Liz Shepherd
Monday, December 9, 2019
9 a.m. – 3 p.m.
Cost: $150 includes materials.
This workshop will include demonstrations of how to design a simple repeat pattern and how to coat and expose a silkscreen. We will be using our in-house designs to learn how to print on the textile printing table. This class is perfect for everyone who loves to sew and is tired of making do with off the shelf fabrics. This is an introductory workshop that will be a foundation of designing and printing your own
fabrics.
Fee includes $25 for materials.
Limited to 4 attendees. All levels welcome. Free parking.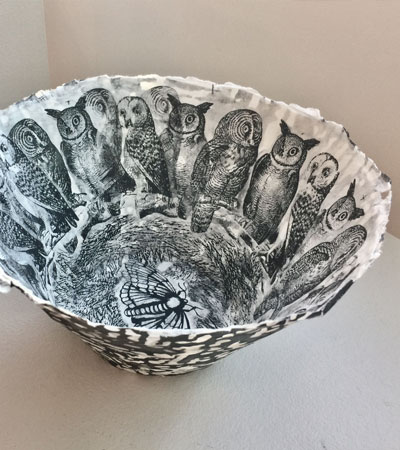 Papier Mâché Bowl Workshop
Wednesday, December 11
10 a.m. to 2 p.m.
Instructor: Liz Shepherd
Cost: $60, all materials provided
Silkscreened Japanese paper (provided) and papier mâché are cast on a form to create beautiful and useful bowls. This workshop is open to all makers, no art experience is required.
This class is limited to 8 attendees. Free parking is provided.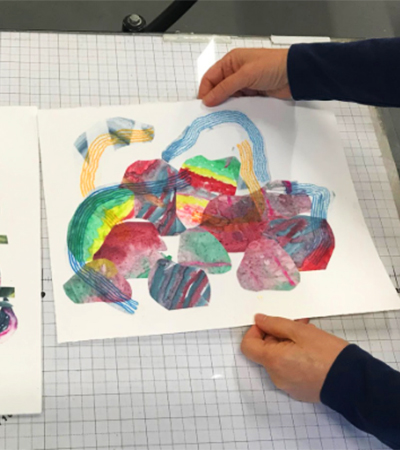 Watercolor Monotypes with Danielle Pratt
Monday, December 16, 2019
10 a.m. – 4 p.m.
$130.00 Some materials included
Watercolor monotype is a method of making prints that captures the luminosity of watercolor paintings and the creative possibilities of printmaking and collage.  In this one-day workshop, we will look at how to create a multilayered print with watercolor using frosted vellum as our plate. Danielle will demonstrate how to prepare the vellum and watercolors for printing, as well as cut stencils and collage them on the press. Painting on vellum plates with watercolor is an easy way to play with color washes, gestural brush strokes, and blooming pools of pigment. No previous printing or painting experience necessary! We have a basic supply of watercolors, you are invited to bring yours as well.
Danielle Pratt is a recent graduate from Boston University College of Fine Arts. She currently works as a Gallery Operator at the ICA while she's not at the studio. She has shown in several local Boston galleries, as well as curated some exhibitions in the Boston and Charlestown area.
All levels welcome.
This class is limited to 4 attendees. Free parking is provided.
Refund and Cancellation Policy
Registration is first come, first served.
Payment is due at the time of registration.
If a class is full, canceled, or re-scheduled, we will contact you about alternatives including refund, credit or alternate classes.
Shepherd & Maudsleigh Studio will make every effort to give 7 days notice of class cancellation Classes that are cancelled because of inclement weather or instructor absence will be refunded in full or alternate arrangements/rescheduling will be offered. We will reach out with updates if this occurs. Full refunds are given at any time if a class is cancelled by Shepherd & Maudsleigh Studio for any reason.
Cancellations received at least 10 business days before the class start date are refunded less a $25.00 fee. Students withdrawing need to confirm that we have received notification that you are dropping the class. Please contact us at shepherdmaudsleigh@gmail.com. Our reply is your confirmation.
Registration limited to students 18 and older.