Summer Workshops and Events
Workshop Testimonials
I have always wanted to take a photoshop class and become a more avid user. I have missed it every time I needed to fix a photo, enhance the colors of one for printing, make a postcard, design a business card, create an invitation.. the list goes on and on. When I saw the class offered by Shepherd and Maudsleigh Studios, I jumped on it. I know Liz intended it to be used mostly for silk screening and printing. It became much more than that. The experience that Liz showed,  the knowledge she shared, the guidance she provided were all superb. Taking the class during our Covid quarantine was the best thing I have done for my mental challenge and creative enhancement. It was the perfect use of the zoom platform. Watching the demos online, while working on my computer was proven to be easy and useful at once. I have taken the class twice and intend to continue taking it. Liz is a wonderful teacher who is capable of pushing me beyond my limits. I definitely recommend it. -Zeina K.
I'm a member at Shepherd and Maudsleigh Studio. I want to let you know how much I enjoyed and learned in the Photoshop workshop given by Liz. She concentrated on techniques we as printmakers would most likely use. Each week we had an assignment and progressively built up our skills using different functions; I found by using them repeatedly I became more comfortable using the program. It's easy for me to  be overwhelmed when there is so much information but  by using functions that I could immediately apply to my work was very helpful.Thanks Liz for your patience and help. – Sandy C.
This workshop teaches artists to navigate and use Photoshop, which opens up a world of creative exploration and technique for use in printmaking, painting, collage, drawing, or any medium. The combination of Liz's approach, as an artist herself, with her extensive experience using the program is great. There's a lot of hands-on teaching and practice and individual attention. In our workshop, Liz made Photoshop accessible even to those who started out with little or no digital skill. It's an amazing set of tools for making art." –Kitty G.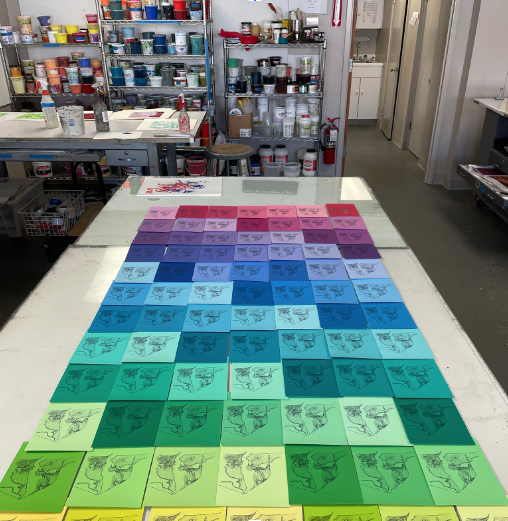 Introduction to Silkscreen – 
Two Sessions

August 9, 10 &11 (Tues.Wed.Thurs.)
10 a.m. – 3 p.m.
Also Offered
September 20, 21, 22 (Tues.Wed.Thurs.)
Instructor: Liz Shepherd
We will cover how to prepare and expose silkscreens, mix colors, paper selection, simple registration for multiple color layers and how to print. Juxtaposing multiple screens, images can be created that are dramatic and unexpected. We will be paying particular attention to mixing transparent colors and layering them.  All materials (except paper) are included. No printmaking experience required. Cost: $425 for the two-day session.
This class is limited to 6 attendees. Free parking is provided.
27 Dunstan Street
West Newton, MA 02465
Email | 617-842-4010