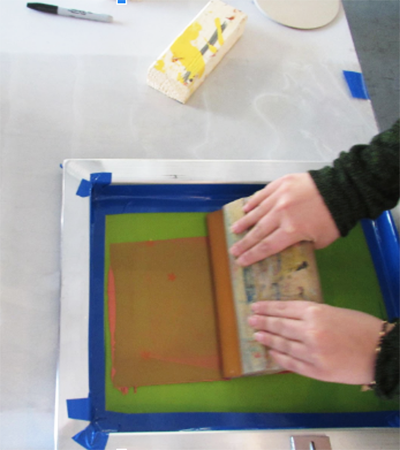 To register, please email us for more detailed information. Please note, all registrations are non-refundable.  Space in a class will be held on receipt of a check. 
Introduction to Silkscreen
Wednesday, October 16 & 23
10 a.m. – 4 p.m.
Instructor: Liz Shepherd
Cost: $255 for each two-day session
Class Full, Registration Closed

If you compare a digital print and a screen print of the same imagery next to each other, you will see a vast difference! Screen printing offers layering techniques that graphic artists know from Photoshop but the silkscreen results are infinitely more interesting in their imperfections, more tactile and more attractive. This workshop will focus on making layered, multi colored screen prints. Juxtaposing multiple screens, images can be created that are dramatic and unexpected. We will be paying particular attention to mixing transparent colors and layering them. Workshop attendees will be provided with guidelines for image creation.

This class is limited to 4 attendees. Free parking is provided.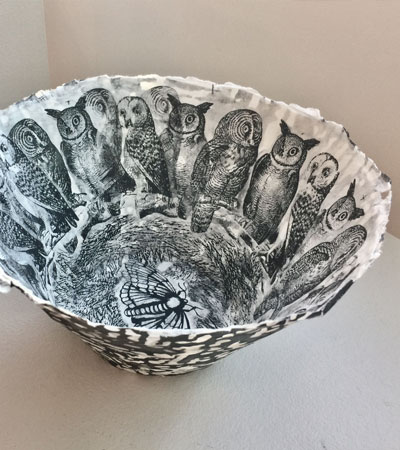 Papier Mâché Bowl Workshop
Thursday, October 17, 2019
10 a.m. to 2 p.m.
Instructor: Liz Shepherd
Cost: $60, all materials provided
Silkscreened Japanese paper (provided) and papier mâché are cast on a form to create beautiful and useful bowls. This workshop is open to all makers, no art experience is required.
This class is limited to 8 attendees. Free parking is provided.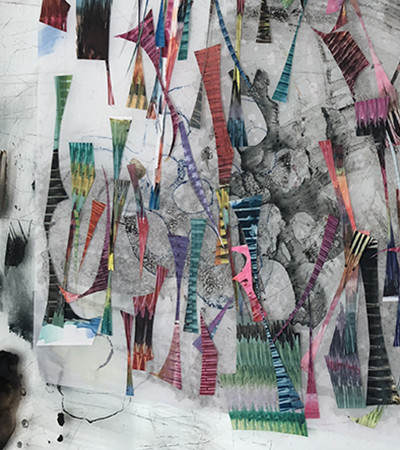 Watercolor Monotypes with Sue Oehme
Tuesday, October 22, 2019
10 a.m. – 4 p.m.
$180 plus $25 materials fee
Shepherd & Maudsleigh Studio is thrilled to host visiting artist Sue Oehme – don't miss this rare opportunity to study with this internationally exhibiting artist and Master Printer!
In this workshop we will explore printing watercolors from various substrates such as frosted vellum or coated mat board. Sue will demonstrate the proper way to get the most out of each application of paint, as well as discuss various papers to use. We will use vellum to cut stencils and compose them on the backing sheets to print multiple layered images. Watercolors offer myriad ways to apply the paint including drawing with the tube, washes, and beautiful evaporated puddles.
Susan Hover Oehme received her BFA in printmaking and painting from the University of Michigan School of Art in Ann Arbor. She owns and is the Master Printer of Oehme Graphics in Steamboat Springs, Colorado.  Before launching OG in 2010, she was the Director/ Master Printer at Riverhouse Editions from 1996 to 2009.  Prior to her move to Colorado, she lived and worked in New York City and printed at Tyler Graphics with such artists as Frank Stella, Helen Frankenthaler, and Joan Mitchell, and also free-lanced in many smaller print studios based in the city.
All levels welcome.This class is limited to 6 attendees. Free parking is provided.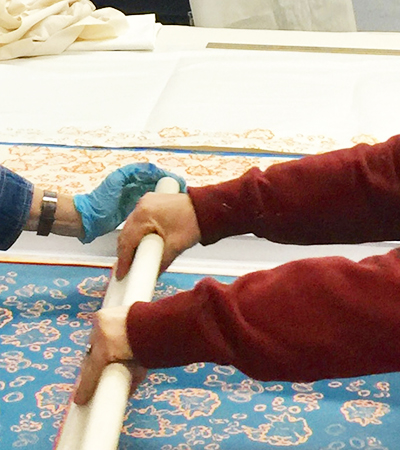 Large Scale Textile Printing
Instructors: Rebekah Lord Gardiner and Liz Shepherd
Please register through our partner: The Eliot School for AW1100 Large Scale Textile Printing
November 9 & 10
10 a.m. – 4 p.m.
Cost: $355 includes all materials. All levels welcome. Free parking.
This workshop will include demonstrations of how to print and register a repeat pattern, mix textile inks, and a discussion about the many wonderful things one can create on a fabric printing table. We will also team print fabric yardage. The focus will be on process. Participants will take away samples we have printed which demonstrate multiple techniques.
Limited to 4 attendees.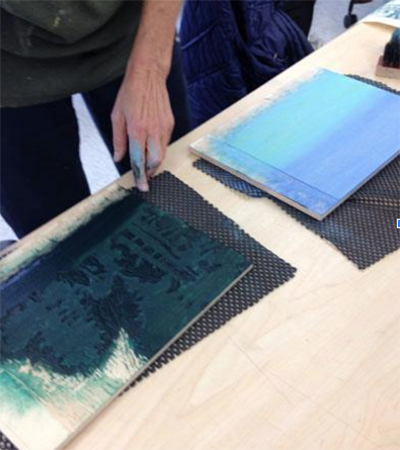 Japanese Woodblock Printing
Thursday, November 14 & Friday, November 15, 2019
10 a.m. to 4 p.m.
Instructor: Lisa Houck
Cost: $355 plus $35 materials fee
Japanese woodblock is a technique rich in tradition dating back to the 17th century. Ukiyo-e means "pictures of a floating world" because these prints depicted daily life. We will carve wood blocks and ink them with watercolors and nori paste to create painterly prints and to experiment with Japanese papers. This non-toxic print medium is colorful and subtle, allowing for transparent washes of color as well as detailed textures and wood grain.
Please bring sketchbooks, photos and other inspiration to the first class.
Appropriate for all levels.
This class is limited to 8 attendees. Free parking is provided.
Refund and Cancellation Policy
Registration is first come, first served.
Payment is due at the time of registration.
If a class is full, canceled, or re-scheduled, we will contact you about alternatives including refund, credit or alternate classes.
Shepherd & Maudsleigh Studio will make every effort to give 7 days notice of class cancellation Classes that are cancelled because of inclement weather or instructor absence will be refunded in full or alternate arrangements/rescheduling will be offered. We will reach out with updates if this occurs. Full refunds are given at any time if a class is cancelled by Shepherd & Maudsleigh Studio for any reason.
Cancellations received at least 10 business days before the class start date are refunded less a $25.00 fee. Students withdrawing need to confirm that we have received notification that you are dropping the class. Please contact us at shepherdmaudsleigh@gmail.com. Our reply is your confirmation.
Registration limited to students 18 and older.