Workshop Testimonials
I have always wanted to take a photoshop class and become a more avid user. I have missed it every time I needed to fix a photo, enhance the colors of one for printing, make a postcard, design a business card, create an invitation.. the list goes on and on. When I saw the class offered by Shepherd and Maudsleigh Studios, I jumped on it. I know Liz intended it to be used mostly for silk screening and printing. It became much more than that. The experience that Liz showed,  the knowledge she shared, the guidance she provided were all superb. Taking the class during our Covid quarantine was the best thing I have done for my mental challenge and creative enhancement. It was the perfect use of the zoom platform. Watching the demos online, while working on my computer was proven to be easy and useful at once. I have taken the class twice and intend to continue taking it. Liz is a wonderful teacher who is capable of pushing me beyond my limits. I definitely recommend it. -Zeina K.
I'm a member at Shepherd and Maudsleigh Studio. I want to let you know how much I enjoyed and learned in the Photoshop workshop given by Liz. She concentrated on techniques we as printmakers would most likely use. Each week we had an assignment and progressively built up our skills using different functions; I found by using them repeatedly I became more comfortable using the program. It's easy for me to  be overwhelmed when there is so much information but  by using functions that I could immediately apply to my work was very helpful.Thanks Liz for your patience and help. – Sandy C.
This workshop teaches artists to navigate and use Photoshop, which opens up a world of creative exploration and technique for use in printmaking, painting, collage, drawing, or any medium. The combination of Liz's approach, as an artist herself, with her extensive experience using the program is great. There's a lot of hands-on teaching and practice and individual attention. In our workshop, Liz made Photoshop accessible even to those who started out with little or no digital skill. It's an amazing set of tools for making art." –Kitty G.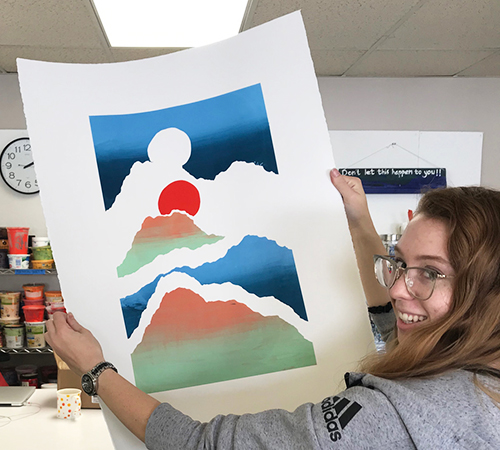 In Studio Introduction to Silkscreen
Monday, October 19 & Monday October 26
10:00 a.m. – 3:00 p.m.
 Instructor: Danielle Pratt
Cost: $250 
Silkscreen is a great way to make beautiful, colorful, multi-layered prints fast. This workshop will introduce you to silkscreen materials and methods from image preparation, coating and exposing the screen, to printing on a variety of surfaces. You will have experience making registered, multicolored images with an emphasis on mixing transparent colors and layering them.
Purchase of screens and other equipment is not necessary, you will be using ours during class. Newsprint is included. If you wish to bring your own nice paper, Arches 88 or Rives BFK are appropriate.
Covid-19 note: For the safety of our instructor and class participants, This class is limited to 2 attendees. A Covid questionnaire will be sent prior to the first class. Free parking is provided.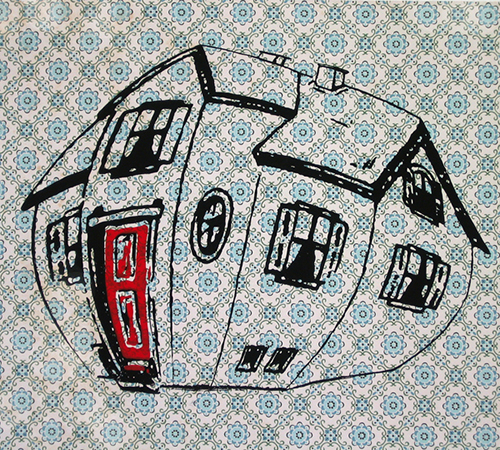 Photoshop for Printmakers (and mixed media artists, painters)
Class meets via Zoom twice a week for 4 weeks (8 sessions)
Tuesdays and Fridays from October 20th to November 13th
10:00 – 11:00 am
Instructor: Liz Shepherd
$250
This is the perfect class for people who are totally new to Photoshop. Photoshop is a rich, deep and wide program but you likely need only a core group of commands to execute what you require for your art practice. YouTube tutorials generally cover more material than you really need and are too face paced for beginners. You don't have to be very computer savvy to use Photoshop in a limited way that suits many artist's needs. You do need to make some time for practice between classes.
This is not a class for graphic designers, web designers or photographers. However, if you want to prepare your images for collage, silkscreen, photo etching, transfers, etc. this class is a good choice. The pace will be slow with lots of review and homework so you can practice your new skills. The instructor will be available for virtual "office hours" between classes for questions and problem solving.
We will cover how to:
Scan
Size, crop, flip, invert and rotate images
Change images from color to black and white
Adjust contrast
Manage layers and "history"
Prepare images to print
Paste and collage images
Participants will need to download Photoshop, which is available by monthly subscription or by the year. Photoshop "Elements" is not recommended for this class. Buy online from Adobe.  A Mac computer is recommended, but not required. Please contact the instructor with questions.
About the instructor
Liz Shepherd has been teaching printmaking and Photoshop skills for the last 15 years and has learned how to simplify the content of the class so that students learn only what they really need to prepare images for printmaking and mixed media.
Liz produces small print editions as well as large-scale sculptural installations.
Recent solo shows have also been at Georgetown College, Georgetown KY, Artpace, San Antonio, Texas, the Scuola Di Graphica in Venice, Italy and at the Boston Sculptors Gallery, Boston, Massachusetts among others.
Her work is the permanent collection at Museum of Fine Arts,
Boston, Edinburgh (Scotland) College of Art, Syracuse University, Boston Children's Hospital, Hanoi (Vietnam) Contemporary Art Center, the Boston Public Library, and numerous private collections.

See lizshepherd.com for more information and shepherdmaudsleighstudio.com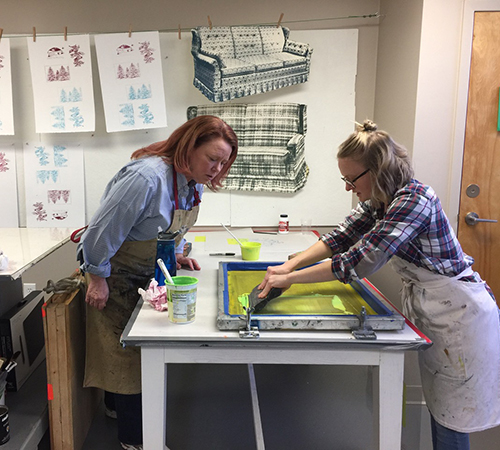 In Studio
Intermediate Silkscreen Tutorial
Instructor: Liz Shepherd
Two Thursdays: Oct 22 and 29 
Time: 10:00 am to 3:00 pm
$275
SOLD OUT
For the safety of our instructor and class participants, this class is limited to 2 attendees. A Covid questionnaire will be sent prior to the first class.
If you know how to coat and expose silkscreens and print in a single color this class can help you build on your skills. We will cover color mixing, registration, halftones and color separations (not CMYK).
Attendees are encouraged to bring their own ideas and projects.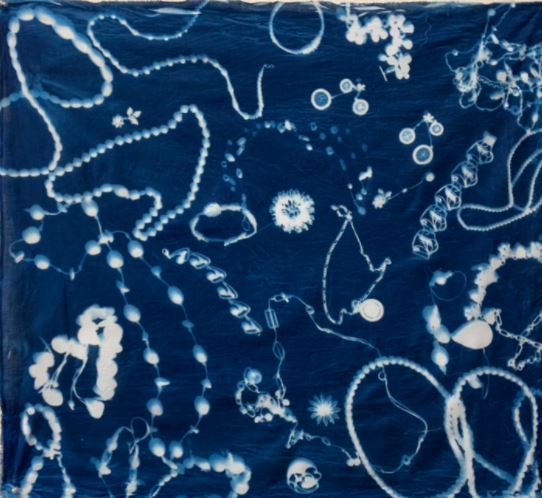 Working with Cyanotype on Fabric at Home
A virtual (Zoom) class
Two classes: Saturday, November 14th at 2pm
and Saturday, November 21st at 2pm
Instructor: Liz Shepherd
$125 plus a $30 materials fee includes two 1.5-hour classes,
30″ square fabric for the project (see above) cyanotype solution, and detailed, written instructions.
Registration closes on November 6
The instructor will be available on Wednesday, November 18th at 10am for "office hours" (extra help, if needed).
Cyanotype is a photographic printing process that results in a distinctive cyan-blue print. It is an inexpensive and simple process that yields lovely results. Class 1 we will explain the cyanotype process and how to produce beautiful pieces it at home. The project is on fabric to produce the piece pictured above but we will discuss working on paper as well. Resources for materials, simple supplies that you already own, detailed technical advice, and do's and don'ts will be covered. Class 2 is for questions, advice and sharing your results after following the process you learned during the first class. The two sessions on two Saturdays one week apart. The instructor will be available on Wednesday, November 18th at 10am for "office hours" (extra help if needed).
Fabric for a 30" x 30" batiste cotton scarf (as seen above), a small amount of cyanotype powder (easy to mix with tap water) and detailed written instructions are included in the $30 materials fee.
Participants are asked to sign in on Zoom 10 minutes prior to classes. Late comers cannot be guaranteed admittance due to Zoom requirements.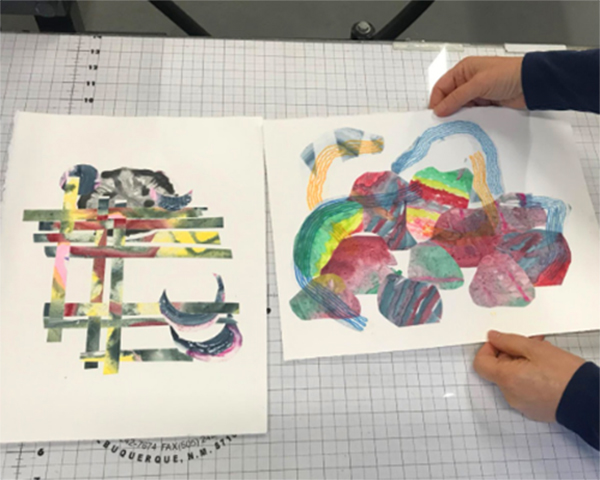 In Studio Watercolor Monotypes with Danielle Pratt
November 21st, 2020
10 a.m. – 4 p.m.
$150.00 some materials included
For the safety of our instructor and class participants, this class is limited to 2 attendees. A Covid questionnaire will be sent prior to the first class.
Watercolor monotype is a method of making prints that captures the luminosity of watercolor paintings and the creative possibilities of printmaking and collage. In this one-day workshop, we will look at how to create a multilayered print with watercolor using frosted vellum as our plate. Danielle will demonstrate how to prepare the vellum and watercolors for printing, as well as cut stencils and collage them on the press. Painting on vellum plates with watercolor is an easy way to play with color washes, gestural brush strokes, and blooming pools of pigment. No previous printing or painting experience necessary! We have a basic supply of watercolors. You are invited to bring yours as well. Vellum plates are provided.
Danielle Pratt is a recent graduate from Boston University College of Fine Arts. She currently works as a Gallery Operator at the ICA while she's not at the studio. She has shown in several local Boston galleries, as well as curated some exhibitions in the Boston and Charlestown area.
All levels welcome. Free parking is provided.
Papier Mâché Bowl
Virtual Workshop
Wednesday, December 2, 2020
10 am to 12 pm plus 1pm to 2pm
Instructor: Liz Shepherd
Cost: $75 plus $25 materials fee
(hand printed paper, archival adhesive, instruction sheet)
Registration closes on November 23
Handprinted Japanese paper is used for papier mâché to create beautiful and useful bowls.
All materials will be mailed to participants and are included in the tuition
This workshop is open to all makers, no art experience is required.
Workshop is taught using Zoom technology.
Participants are asked to sign in on Zoom 10 minutes prior to classes. Late comers cannot be guaranteed admittance due to Zoom requirements.