Winter Workshops and Events
Workshop Testimonials
I have always wanted to take a photoshop class and become a more avid user. I have missed it every time I needed to fix a photo, enhance the colors of one for printing, make a postcard, design a business card, create an invitation.. the list goes on and on. When I saw the class offered by Shepherd and Maudsleigh Studios, I jumped on it. I know Liz intended it to be used mostly for silk screening and printing. It became much more than that. The experience that Liz showed,  the knowledge she shared, the guidance she provided were all superb. Taking the class during our Covid quarantine was the best thing I have done for my mental challenge and creative enhancement. It was the perfect use of the zoom platform. Watching the demos online, while working on my computer was proven to be easy and useful at once. I have taken the class twice and intend to continue taking it. Liz is a wonderful teacher who is capable of pushing me beyond my limits. I definitely recommend it. -Zeina K.
I'm a member at Shepherd and Maudsleigh Studio. I want to let you know how much I enjoyed and learned in the Photoshop workshop given by Liz. She concentrated on techniques we as printmakers would most likely use. Each week we had an assignment and progressively built up our skills using different functions; I found by using them repeatedly I became more comfortable using the program. It's easy for me to  be overwhelmed when there is so much information but  by using functions that I could immediately apply to my work was very helpful.Thanks Liz for your patience and help. – Sandy C.
This workshop teaches artists to navigate and use Photoshop, which opens up a world of creative exploration and technique for use in printmaking, painting, collage, drawing, or any medium. The combination of Liz's approach, as an artist herself, with her extensive experience using the program is great. There's a lot of hands-on teaching and practice and individual attention. In our workshop, Liz made Photoshop accessible even to those who started out with little or no digital skill. It's an amazing set of tools for making art." –Kitty G.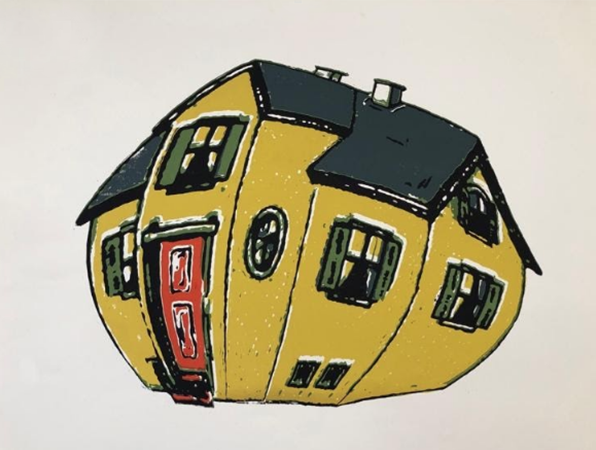 Introduction to Silkscreen
Limited to four attendees
Two Wednesdays, February 2nd and 9th, 2022
10 a.m. – 4 p.m.
Instructor: Liz Shepherd
Cost: $300 for the two-day session
If you compare a digital print and a screen print of the same imagery next to each other, you will see a vast difference! Screen printing offers layering techniques that graphic artists know from Photoshop, but silkscreen results are infinitely more interesting in their imperfections. This workshop will focus on making layered, multi-colored screen prints. Juxtaposing multiple screens, images can be created that are dramatic and unexpected. We will be paying particular attention to mixing transparent colors and layering them. Workshop attendees will be provided with guidelines for image creation.
Masking will be required. The instructor is fully vaccinated.
Free parking is provided.
27 Dunstan Street
West Newton, MA 02465
info@shepherdandmaudsleighstudio.com
617-842-4010
Liz Shepherd uses printmaking to enhance objects made of wood or paper. She also produces small, hand pulled print editions. In the past 15 years she has exhibited in the United States and internationally. Her most recent solo shows were at Georgetown College, Georgetown KY, Artpace in San Antonio, Texas, Scuola di Grafica, Venice, Italy, at Simmons College, Boston and at the Boston Sculptors Gallery.
Her work is the permanent collections at Museum of Fine Arts, Boston, Edinburgh College of Art, Syracuse University, Boston Children's Hospital, Hanoi (Vietnam) Contemporary Art Center, Boston Public Library as well as numerous corporate and private collections.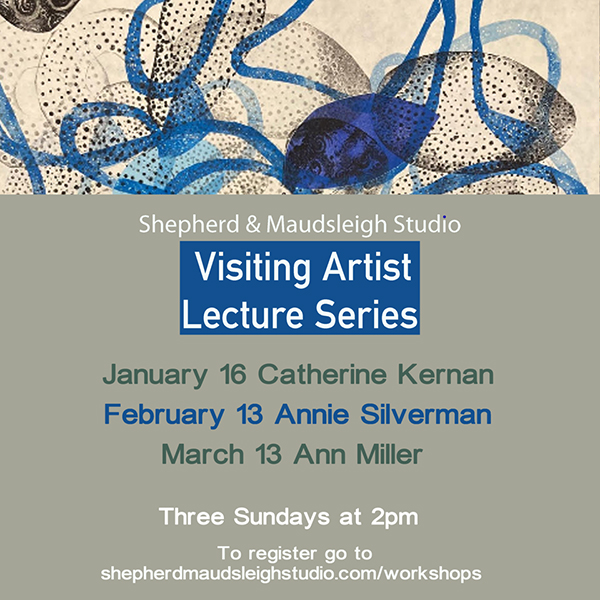 Catherine Kernan – January 16
Catherine Kernan
 has degrees from Cooper Union and, the University of Wisconsin/Madison. She has been a partner in professional studios since 1982, and is a founding and current partner of Mixit Print Studio.
Catherine is primarily a studio artist, making, showing, and selling her own work. An experienced and engaged teacher, in courses, workshops and tutorials, she focuses on less-toxic print processes and materials. For six years Catherine was Director of Maud Morgan Arts, an art center in Cambridge, MA offering classes, workshops, and exhibitions.
The Print Club of Cleveland, the Print Club of Rochester, and the Flint Institute of Art have commissioned her editions. She authored  Singular and Serial: Contemporary Monotype and Monoprint, 2019. Many private, public and corporate collections own Catherine's work. Her residencies include:  Scuola Internazionale di Grafica, Venice;  Ballinglen Arts Foundation, Ireland; MacDowell Colony. In 2018 she received a grant from the Pollack Krasner Foundation.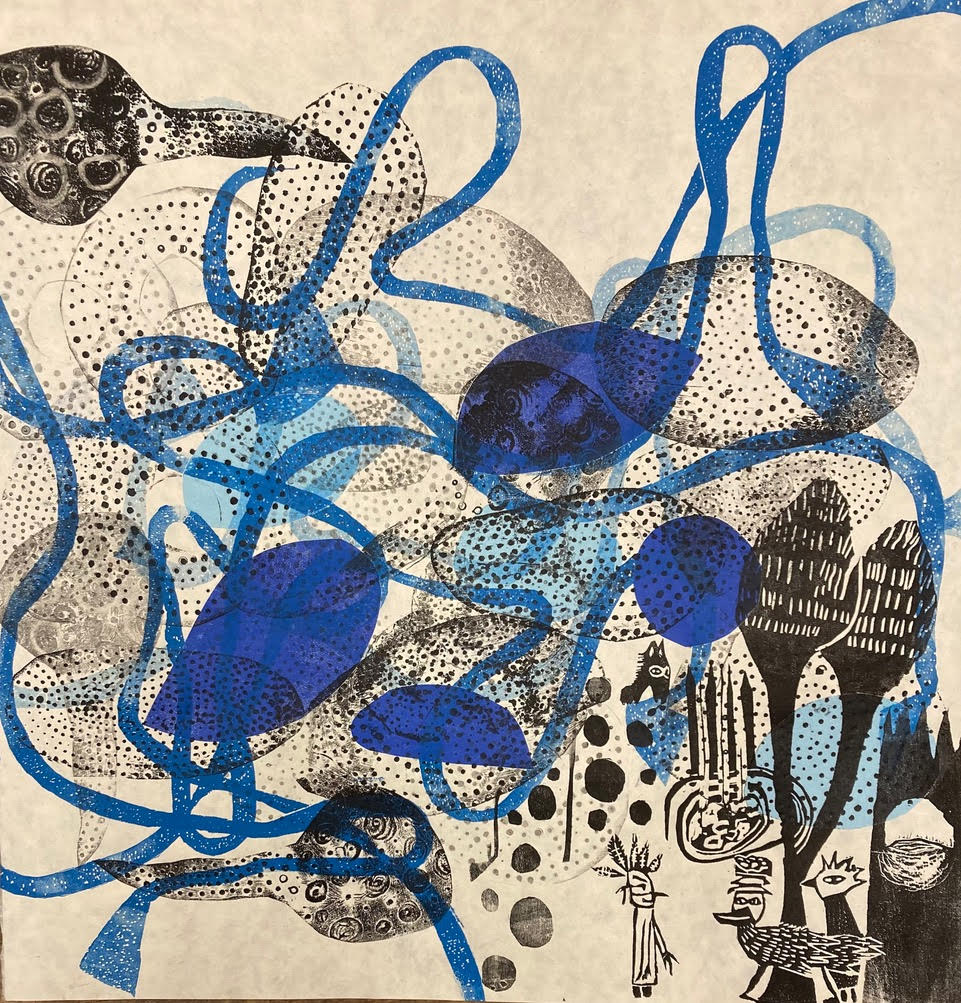 Annie Silverman – February 13
Annie Silverman is the proprietor of ABRAZOS PRESS, a teaching and professional print studio located at the Miller St. Studio Building in Somerville, Massachusetts.  Working primarily with relief and mixed media printmaking techniques, with a specialty in woodblock ,Annie has evolved her improvisational practice to create a wide range of printed papers that used and transformed  in various ways: by stitching, or waxing, and possibly turned into books, used dimensionally and in installations.  She enjoys working collaboratively by being in group printmaking projects, and as a member of LA printmakers participated in IM/Migration, which was exhibited at the Venice Biennale. In 2019.
A teacher of long standing, Annie was affiliated with  Mass College of Art and Design for over 20 years, and has taught workshops at Zea Mays studio, Art New England, Penland School of Crafts, and Pyramid Atlantic. She has also taught printmaking workshops in Denmark and Ireland at studios associated with Artist Residencies to which she was invited.
Annie's  Artist Books and prints have been collected and shown nationally and internationally, and are in the collections of the Boston Athenaeum , the De Cordova Museum, and the Boston Public Library.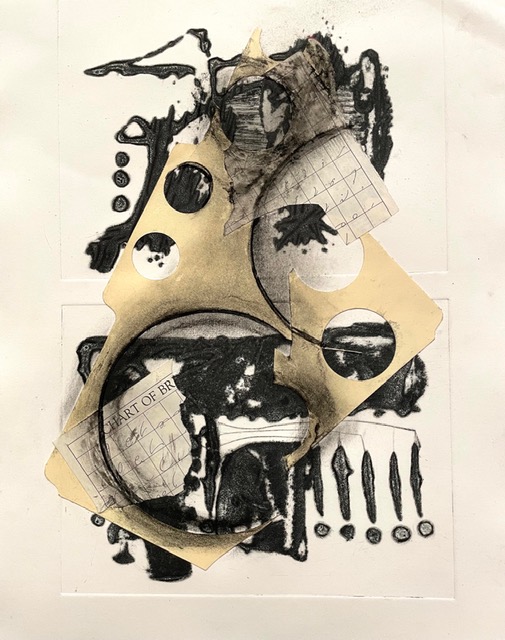 Ann Miller is a mixed media artist whose practice centers on drawing and printmaking. She works out of her studio at Waltham Mills, and since the onset of the pandemic she has also maintained a regular, slightly less messy practice focused on drawing at her living room drafting table. Her training comes from regular immersion in workshops and coaching over the last 30 years, in such diverse areas as papermaking, bookmaking, fabric surface design, collage, drawing, and printmaking. Some of her principal teachers have been Alexandra Sheldon, Kerr Grabowski, Joyce Silverstone, Robert Siegelman, and Chuck Holtzman. Her work is guided by intuitive explorations of the possibilities of materials and methods, especially used in combination. Nothing pleases her so much as the discovery of a new way to make and combine marks, a new way to use a material.
Visiting Artist Lecture Series
January 16, Catherine Kernan
February 13, Annie Silverman
March 13, Ann Miller
Three Sundays at 2pm
Remote and in studio options available. The single lecture price $20.00, $15 for students.

Masking will be required in the studio.
 Free parking is provided.