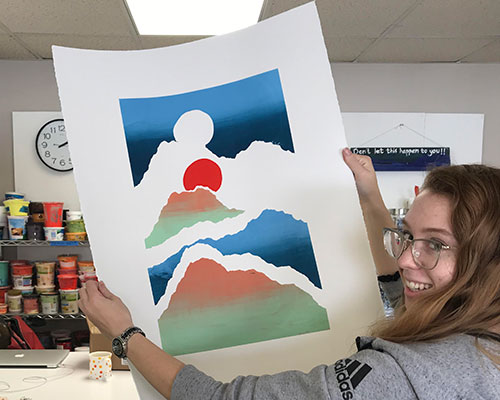 Introduction to Silkscreen
Wednesday, February 12 and February 19, 2020
10 a.m. – 4 p.m.
Instructor: Liz Shepherd
Cost: $255 for each two-day session
If you compare a digital print and a screen print of the same imagery next to each other, you will see a vast difference! Screen printing offers layering techniques that graphic artists know from Photoshop but the silkscreen results are infinitely more interesting in their imperfections, more tactile and more attractive. This workshop will focus on making layered, multi colored screen prints. Juxtaposing multiple screens, images can be created that are dramatic and unexpected. We will be paying particular attention to mixing transparent colors and layering them. Workshop attendees will be provided with guidelines for image creation.
This class is limited to 4 attendees. Free parking is provided. All levels welcome.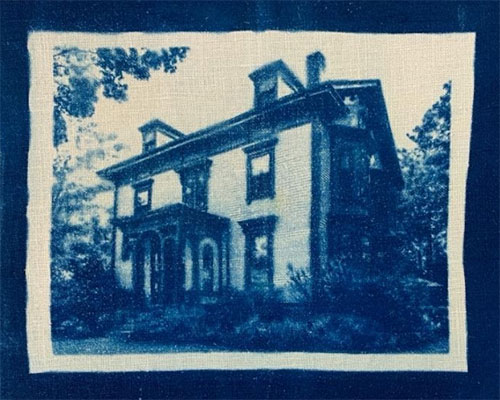 Cyanotype Workshop for Beginners
Printing on Vintage Linens
Friday, February 21st, 10 a.m. to 4p.m.
Instructor: Liz Shepherd
$100 fee includes cyanotype process, does not include fabric
REGISTRATION CLOSED/WORKSHOP IS FULL
You don't need to be a photographer to enjoy this one-day workshop. If you have been collecting vintage linens for a creative project that you would do "someday" or if you have your grandmother's old napkins, etc. this is a fun project. Cyanotype method loves cotton and linen that has been washed repeatedly.
Cyanotype is a photographic printing process that results in a distinctive cyan-blue print. It is an inexpensive and simple process that yields lovely results.
Send us your black and white photos and bring those napkins (tablecloths will be too big for this workshop) that your grandmother gave you and we will make the digital negatives.
This class is limited to four attendees. Free parking is provided.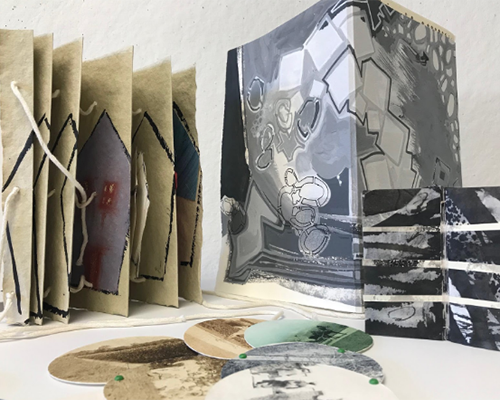 Intermediate Book Arts
Tuesday, February 25, 2020
10 a.m. to 2 p.m.
Instructors: Rebekah Lord Gardiner and Danielle Pratt
$60 plus $5 materials fee
REGISTRATION CLOSED/WORKSHOP IS FULL
In this workshop we will take the skills you learned in the Intro to Book Arts class and add new techniques to bring your bookmaking skills to the next level. Non-adhesive multi section sewing, accordions, and simple portfolio constructions will be highlighted. Most materials will be supplied but if you have bookmaking supplies (a bone folder, waxed thread, self healing mat) plus prints or drawings, bring them along. Previous enrollment in Intro to Book Arts or equivalent required.
This class is limited to 4 attendees. Free parking is provided.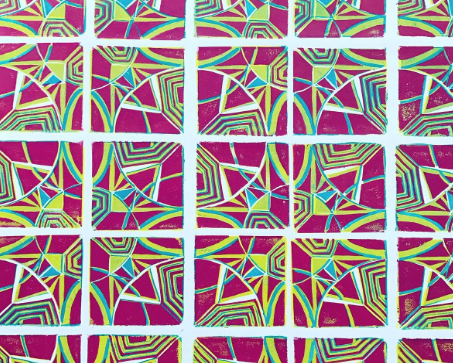 Reduction Grid Weekend Workshop

Saturday and Sunday, March 7 & 8, 2020
 1p.m. – 5p.m.

Instructor: Susana McDonnell

Cost: $120 Materials Fee $20.00
In this weekend workshop Susana McDonnell of LinoCave will teach her signature reduction grid technique. This combines a reduction print, which is using a single block to create a limited edition multi-colored print, and pattern design. We will work on paper to create one large 22" x 22" print and some smaller ones as an insurance policy against potential mistakes which cannot be corrected. This technique is tantalizingly risky, but very rewarding. We will use many different safeguards to ensure success. Please check out the #reductiongrid hashtag on Instagram to see the possibilities!
This class is limited to 8 attendees. Free parking is provided. All levels welcome.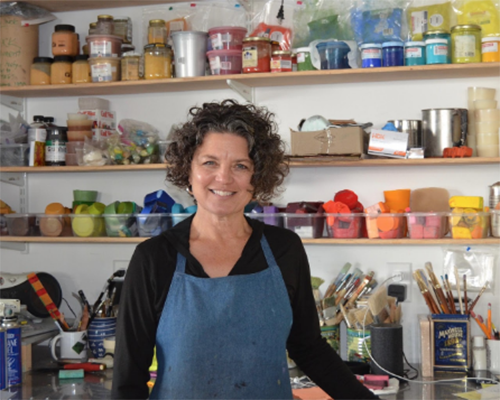 Creative & Professional Practice

Saturday & Sunday March 21-22, 2020
 9 a.m. – 5 p.m.


Instructor: Kim Bernard

Cost: $250
This intensive workshop is designed for artists who want to create a sustainable life making art and advance both creatively and professionally.  Creating a strong, body of work is the most important part of being an artist, but how do you pay the bills, juggle time, money, studio and life?  This workshop will address the most critical issues in developing a lifelong practice of making art.  Issues of how and where to exhibit, documentation, creating a website, grant writing, residencies, developing a supportive community and time management will be thoroughly covered.
Participants should be prepared to share images of work for critique, a first draft of their artist's statement, bio and resume, be prepared to examine their studio practice, accept critical feedback on their work and professional development guidance.  Work sessions will be broken up with journaling sessions, yoga and dark chocolate breaks.
This class is limited to 12 attendees. Free parking is provided. All levels welcome.