Spring Workshops and Events
Workshop Testimonials
I have always wanted to take a photoshop class and become a more avid user. I have missed it every time I needed to fix a photo, enhance the colors of one for printing, make a postcard, design a business card, create an invitation.. the list goes on and on. When I saw the class offered by Shepherd and Maudsleigh Studios, I jumped on it. I know Liz intended it to be used mostly for silk screening and printing. It became much more than that. The experience that Liz showed,  the knowledge she shared, the guidance she provided were all superb. Taking the class during our Covid quarantine was the best thing I have done for my mental challenge and creative enhancement. It was the perfect use of the zoom platform. Watching the demos online, while working on my computer was proven to be easy and useful at once. I have taken the class twice and intend to continue taking it. Liz is a wonderful teacher who is capable of pushing me beyond my limits. I definitely recommend it. -Zeina K.
I'm a member at Shepherd and Maudsleigh Studio. I want to let you know how much I enjoyed and learned in the Photoshop workshop given by Liz. She concentrated on techniques we as printmakers would most likely use. Each week we had an assignment and progressively built up our skills using different functions; I found by using them repeatedly I became more comfortable using the program. It's easy for me to  be overwhelmed when there is so much information but  by using functions that I could immediately apply to my work was very helpful.Thanks Liz for your patience and help. – Sandy C.
This workshop teaches artists to navigate and use Photoshop, which opens up a world of creative exploration and technique for use in printmaking, painting, collage, drawing, or any medium. The combination of Liz's approach, as an artist herself, with her extensive experience using the program is great. There's a lot of hands-on teaching and practice and individual attention. In our workshop, Liz made Photoshop accessible even to those who started out with little or no digital skill. It's an amazing set of tools for making art." –Kitty G.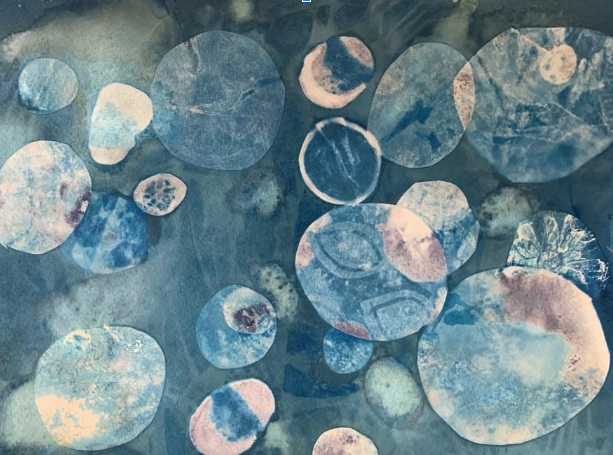 Wet Cyanotype with Suzanne Moseley
Tuesday, May 17th and Tuesday May 24th
10 a.m. – 3 p.m.
Cost: $250 plus $25 for materials
The "Wet Cyanotype" process pushes traditional cyanotype to a new level by experimenting with kitchen chemistry. No experience is needed to jump in and play. The beauty is in its unpredictability, making it accessible to all. The wet process yields a more painterly outcome and a fuller range of color than traditional solar printing. During the first class will cover the basic method along with examples of the instructor's experimentation. We will coat BFK Rives paper and once dried, assemble your work out in the sun. While it is exposing you can begin to plan your work for the following week, taking the time to create additional materials (photo negatives, drawings, stencils, etc.). Week two you will assemble and expose your new works. The instructor will demonstrate a bleaching technique to add to the fun. Class is limited to 8 participants.
Suzanne Moseley is a printmaker and alternative photographer currently represented by the Left Bank Gallery in Wellfleet, MA and affiliated with Shepherd & Maudsleigh Studio, Boston Printmakers, Concord Art and MGNE (Monotype Guild of New England). Her work has been widely exhibited in New England juried shows and will be on display May 12-June 15, 2022, with co-artist Adrienne Shishko at FPAC's gallery in the Envoy hotel in the Boston Seaport. She is also collaborating with Shepherd & Maudsleigh Studio's co-owner, Liz Shepherd, on a sculptural piece for Boston Sculpture Gallery's exhibition July-October 2022 at Highfield Hall in Falmouth, MA. This fall her work will be included in Portugal's 5th Global Print show in the Douro Valley.
The instructor is fully vaccinated. Attendees should be fully vaccinated as well. Free parking is provided.
Mark-Making Lab with Joyce Silverstone
June 18th & 19th
10 a.m. – 5 p.m.
Cost: $300
Includes all materials due to the generosity of the Speedball Company
Participants will explore beautiful drypoint mark-making: Scratch, sand, and abrade the surface of a plastic plate to create an image that can be wiped with tarlatan which allows those burrs and kicked up plate material to hold ink.
PETG plastic, which is a flexible, transparent plastic sheet, will be the substrate for the drypoints and monotypes. We'll proof and print these plates using Akua Intaglio Inks and modifiers.
Joyce will highlight how to make and print a drypoint plate with time to practice intaglio wiping skills.  Demonstrations will include the ins and outs of mixing and layering Akua Intaglio Ink and manipulating color additions. Class is limited to 8 participants.
Joyce Silverstone is a graduate of the School of the Museum of Fine Arts Boston, and has been exploring and refining ways of combining printmaking and painting for over 30 years. In addition, Joyce is a certified Rosen Method Bodywork Practitioner and Teacher, and teaches creative process to students of meditation and embodied awareness.
As a core faculty member and mentor in the Artist Mentorship Program at Zea Mays Printmaking, Joyce is dedicated to using and teaching sustainable and less toxic printmaking practices. She teaches and exhibits her prints at art centers and museums internationally and has been an Akua Ink Demonstration Artist since 2014. Joyce's prints are included in the new collection: Singular and Serial: Contemporary Monotype and Monoprint, published by Schiffer. Her current work can be viewed in the Zea Mays Printmaking Flat File Project, and at joycesilverstone.com
The instructor is fully vaccinated. Attendees should be fully vaccinated as well. Free parking is provided.