Workshop Testimonials
I have always wanted to take a photoshop class and become a more avid user. I have missed it every time I needed to fix a photo, enhance the colors of one for printing, make a postcard, design a business card, create an invitation.. the list goes on and on. When I saw the class offered by Shepherd and Maudsleigh Studios, I jumped on it. I know Liz intended it to be used mostly for silk screening and printing. It became much more than that. The experience that Liz showed,  the knowledge she shared, the guidance she provided were all superb. Taking the class during our Covid quarantine was the best thing I have done for my mental challenge and creative enhancement. It was the perfect use of the zoom platform. Watching the demos online, while working on my computer was proven to be easy and useful at once. I have taken the class twice and intend to continue taking it. Liz is a wonderful teacher who is capable of pushing me beyond my limits. I definitely recommend it. -Zeina K.
I'm a member at Shepherd and Maudsleigh Studio. I want to let you know how much I enjoyed and learned in the Photoshop workshop given by Liz. She concentrated on techniques we as printmakers would most likely use. Each week we had an assignment and progressively built up our skills using different functions; I found by using them repeatedly I became more comfortable using the program. It's easy for me to  be overwhelmed when there is so much information but  by using functions that I could immediately apply to my work was very helpful.Thanks Liz for your patience and help. – Sandy C.
This workshop teaches artists to navigate and use Photoshop, which opens up a world of creative exploration and technique for use in printmaking, painting, collage, drawing, or any medium. The combination of Liz's approach, as an artist herself, with her extensive experience using the program is great. There's a lot of hands-on teaching and practice and individual attention. In our workshop, Liz made Photoshop accessible even to those who started out with little or no digital skill. It's an amazing set of tools for making art." –Kitty G.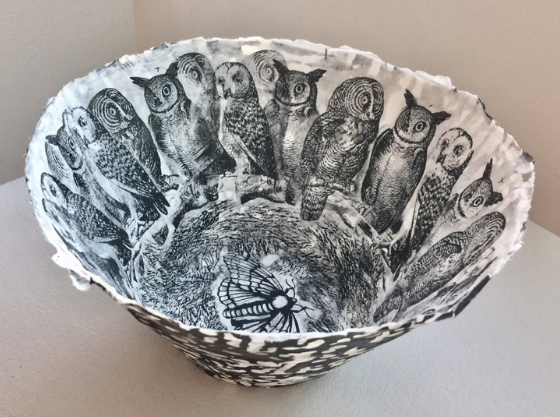 Papier Mâché Bowl
Virtual Workshop
Friday, March 26, 2021
10 am to 12 pm plus 1pm to 2pm
Registration closes on March 15th
Instructor: Liz Shepherd
Cost: $75 plus $25 materials fee
(hand printed paper, archival adhesive, instruction sheet and postage)
Handprinted Japanese paper is used for papier mâché is used to create beautiful and useful bowls.
All materials will be mailed to participants and are included in the tuition
This workshop is open to all makers, no art experience is required.
Workshop is taught using Zoom technology.
Participants are asked to sign in on Zoom 10 minutes prior to classes. Late comers cannot be guaranteed admittance due to Zoom requirements.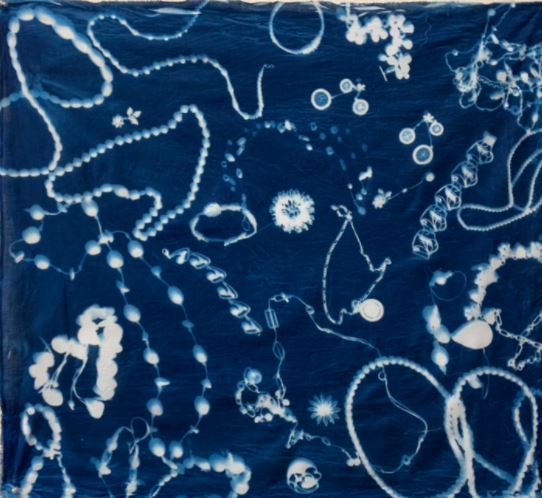 Working with Cyanotype on Fabric at Home
A virtual (Zoom) class
Two classes: Saturday, March 13th at 2pm
and Saturday, March 20th at 2pm
Registration closes on March 1st
Instructor: Liz Shepherd
$125 plus a $30 materials fee includes two 1.5-hour classes,
fabric for the project (see above) cyanotype solutions, and detailed, written instructions.
The instructor will also be available on Wednesday, November 18th at 10am for "office hours"
Cyanotype is a photographic printing process that results in a distinctive cyan-blue print. It is a simple process that yields lovely results. Class 1 (March 13th) we will explain the cyanotype process and how to produce beautiful pieces it at home. The project is on fabric to produce the piece pictured above but we will discuss working on paper as well. Resources for materials, simple supplies that you already own, detailed technical advice, and do's and don'ts will be covered. Class 2 (March 20th) is for questions, advice and sharing your results after following the process learned during the first class. The two sessions on two Saturdays one week apart.
Fabric for a 24" x 24" batiste cotton scarf (as seen above), a small amount of cyanotype powder (easy to mix with tap water) and detailed written instructions are included in the $30 materials fee.